How the MailBox Angels™ Came into Being, By Cindy Fuller
During a meditation, I asked God what I could do to help our church with their building fund. I was told very clearly, "MailBox Angels"!

What are mail box angels? I asked.
This is what I was told:
There were six angels who wanted to come and help the people on the Earth with their lives.
As a people we are all trying so hard to keep our thoughts positive, and to keep our homes comfortable. We could control almost everything that came to us except our mail. In our mail, we receive energy that comes from all manner of people with all types of intentions. I was reminded how my heart would start to race every time I got anything from IRS. Some credit card bills actually arrive with a demanding energy around them. I could always tell if someone was angry with me when I touched the envelope of the letter they had sent. The energy that comes through our mailboxes is very real.
Whether it is a past due notice or a sales pitch, these pieces of mail are all charged with the energy and intention of the sender. And often, that energy is not supportive of the receiver!
These angels wanted to come to the earth to help!

They were very specific about their colors, their images and most importantly their gifts. Each of these angels brings a wonderful gift of transformation.
They selected the mail box because this is the place where you and the world meet. Here is where the tone of all of your communications occur. And this is the place where you must receive and process all the correspondence that comes to you. You don't get to choose. You must touch every item!
The angels wanted to bring a transformational energy to all your mail. They shift the original intentions on all the mail you receive and transform it with their gift.
Then they set into motion a vibration that will draw more and more of their gift into your world. And they do! It is amazing!
We are already receiving testimonials from people sharing how these angels are beginning to affect their worlds. They have not limited them, but are placing them where ever they feel guided, where ever they feel that they would like the angels to help them.

And I am so very grateful for this miraculous gift.
I love you, God. And today, I am open to be a part of all that your angels have to offer.
Thank you God.

Cindy
The Creation Process
The MailBox Angels were brought into the world through many loving hands:
First, from Cindy's vision, to William Dargin's art direction, and finally through the talented art design of Colleen Madden. Each angel came with a specific energy and message that had to be conceptualized and then created in a way that would reflect the gifts that they brought. Colleen's immense heart and fabulous talent created a space where all of the energies could merge and then become a clear and insightful visual. The talented team of three were able to bring to life a celestial presence that is just beginning to change the world!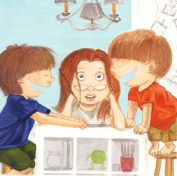 Colleen Madden is a professional illustrator who calls the suburbs of Philadelphia her home with her husband, Patrick, and their 2 amazing and truly inspiring boys, Sean and Gabriel. When she's not working or doodling in her sketchbook, you can find her in a bed of hostas, chasing slugs.
You can find Colleen and her work on the intenet at greenfrographics.com.
William Dargin is an Art Director and marketing consultant who specializes in shaping companies to focus and deliver their message successfully.
Rev. Cindy Fuller, is a an author, counselor, and lecturer. In 1990, she co-founded Inner Quest Church, in Alpharetta, Georgia. There she leads a ministry that embraces a holistic approach to Christian thought, teaching a path of conscious co-creation in partnership with God.
You can find Cindy through her church. Inner Quest, on the web at www.innerquestchurch.org.